HOT TOPICS: The following items are the newest content available from UltraMED.
Experience the best online billing has to offer!
UltraMED's User Home
This is your UltraMED support center. Our staff will provide you with all the tools you need to get the job done. Announcements, updates, support, training materials, and much more!
MSP Update · Medicare Secondary Payer Electronic Filing Update
As of June 1st, Medicare is requiring all claims in which Medicare is the secondary payer to be filed electronically. Version 8.6 and after includes this feature. Click the "MSP Update" link to see the "MSP Tutorial" to learn how to transmit your Medicare as a Secondary Payer Claims.
Ultramed Online Installer · The Latest UltraMED Online Program
If you need to install UltraMED, this is the link to the program. Simply follow the instructions in the installation program. If you need more help navigate to the training section to view an online tutorial.
Ultramed Manual · The Old UltraMED Online Manual
If you need the old UltraMED Manual, this is the link to the program. Simply follow the instructions in the installation program. Most of the material covered in this manual will be on this website in updated format by September 1, 2007.
UltraMED Launches New Web Site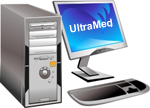 Things are changing fast. We expect this process to continue. This web site will become a storehouse of material for existing users as well as new users of UltraMED Online. Update information, training, support, links to important outside sites all will be available here to make your life easier. We understand the complexity.
You will be able find out what's happening in one central location. It is our goal to make this a usable tool which will make your life easier and your job more effective. During the next few months the content here will increase weekly so come back often and check it out. Whether it's NPI Numbers, electronic EOBs, or the new ICD-10 coding system. You can learn about it here!
UltraMED Support Center

Did you know that the fastest and best way to get support is to use our new "Support Central"? Click the link above or the computer picture (left) to leave a message.
New Phone System In Place

As part of our effort to serve you better, we now have a new support system! You can reach us at 1-800-220-6209. The person answering will log your call into our internet support system and we will contact you back. This system means that we can give priority to critical calls and the right person with the ability to fix your problem will be the one calling you! Our 818-287-6699 number should be used for emergency calls directly to staff members per our instructions. You can also log a message directly into the UltraMED message center.